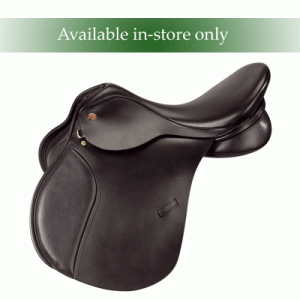 An open-headed tree and a broad panel which interfaces well, combine to make this a very universal fitting saddle. Cut far enough forward to allow for jumping and hunting, as well as schooling and hacking.
The ideal choice for a horse with an average height wither
Built on a SimaTree saddle tree shaped to give wither clearance
Tree positions the rider centrally for a balanced riding position
Luxurious hide knee pads and seat ensure maximum rider support and comfort
Suitable for many styles of riding, including flatwork, jumping and hacking
Features:
All Kent & Masters saddles offer these flexible features to help fine-tune the fit:
Changeable gullet bar
Flocking slots
Changeable girth straps
NEW Shimz
Movable blocks
Please note Kent & Masters saddle are only available for purchase in-store.