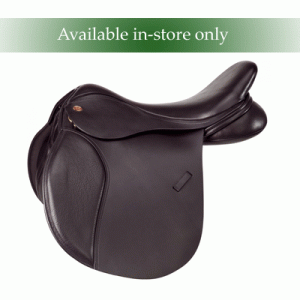 Designed specifically for Cob types, this low profile saddle has a flat tree shape and straighter-cut slim line panels to minimise bulk between horse and rider. Adjustable girthing options enable optimum saddle stability to be achieved.
Low profile saddle is designed to fit the low withered, broad backed Cob types

Tree shape, slim-line panels and girth strap arrangement maximise saddle stability

Bulk between horse and rider has been minimised for improved rider control and closer contact

Luxurious hide knee pads and seat ensure maximum rider support and comfort

Suitable for many styles of riding, including flatwork, jumping and hacking
Please note Kent & Masters saddle are only available for purchase in-store.